What is a Chitty?
The word 'Chit,' suggests the origin of Chit Funds. 'Chit' means a written note on a small piece of paper.The Malayalam equal for the word 'chitty,' is 'Kuri,' which has been derived from 'Kurippu' ( a piece of writing or script). The term 'Chitty' or 'Kuri' is derived from the root word 'lot.' Foreman (person who operates chitties) writes the names of each subscriber on seperate pieces of paper and fold them in such away that the name written on the paper is not visible to the assembled people there.
These slips where then placed in to a pot or vessel . After shuffling these pieces of paper throughly, one piece of paper is taken outside by one of the members of chitty assembled there . In other words, one 'Narukku' also means one member.The prized Chit is removed from the vessel, and the proceedings repeated, in the next installments. The Chit/ Kuri/Narukku thus play a crucial role in the allotment of the prize amounts.
Read More
According to the Chit Funds Act of 1982, the Government of India defines a "chit" as "a transaction whether called chit, chit fund, chitty, kuri or by any other name by or under which a person enters into an agreement with a specified number of persons that every one of them shall subscribe a certain sum of money (or a certain quantity of grain instead) by way of periodical instalments over a definite period and that each such subscriber shall, in his turn, as determined by lot or by auction or by tender or in such other manner as may be specified in the chit agreement, be entitled to the prize amount."
Or in simple words, a chitty is a contract between the Foreman and the Subscribers. As per the contract, each subscriber agrees to remit a fixed amount of money in specific intervals for a specific period.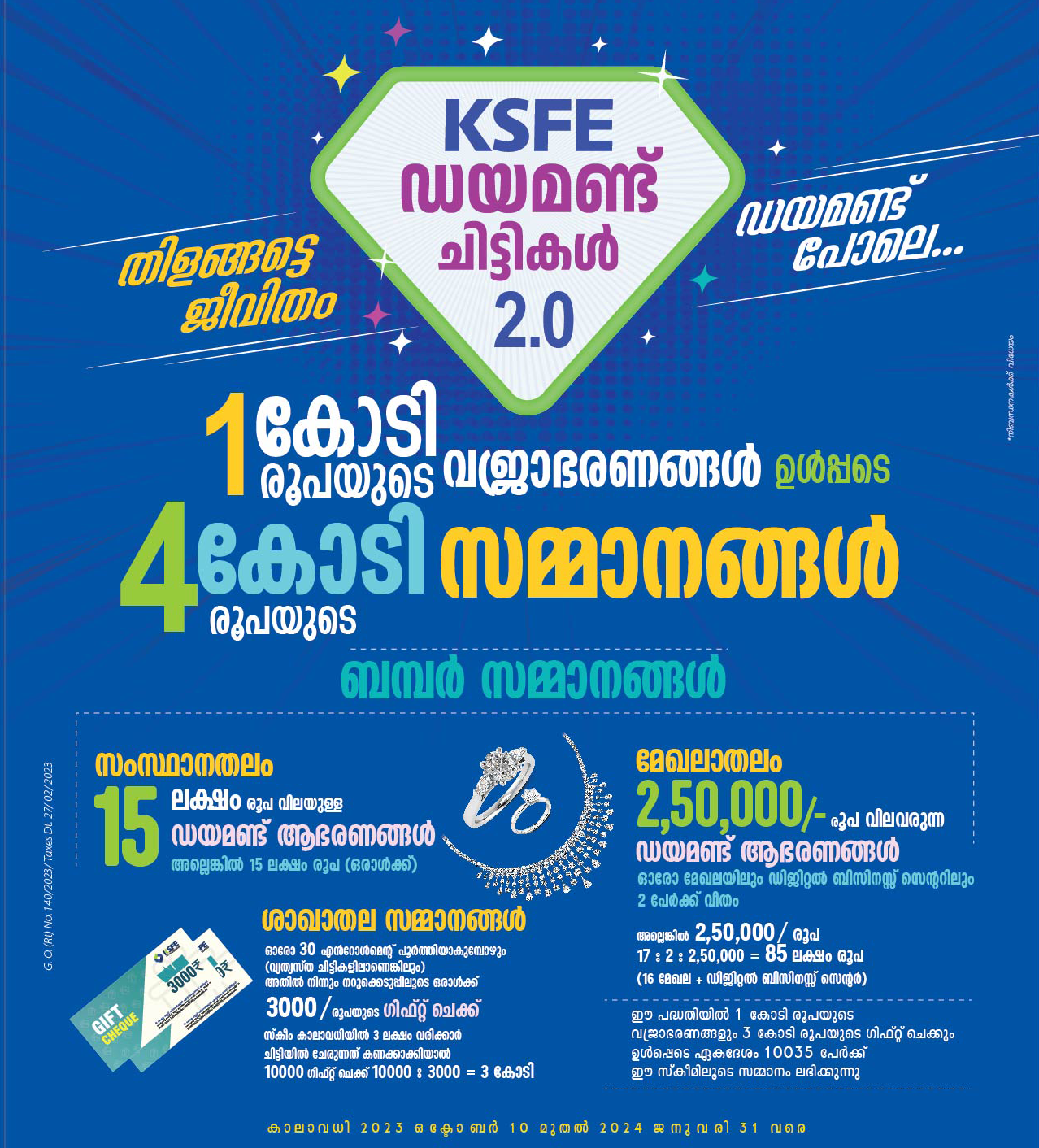 KSFE Diamond Chits 2.0
Name of Scheme: KSFE Diamond Chits 2.0
Period: 10th October 2023 to 31st January 2024
Prize Structure
Bumper Prize
Diamond ornaments worth Rs.15 Lakhs or Rs.15 Lakhs. (1 No.)
Regional Level Prizes
Diamond ornaments worth Rs.2.50 Lakhs or Rs.2.50 Lakhs each for 34 persons (In 16 Regions and 1 Digital Business Centre)
Branch Level  Prizes
Gift cheque worth Rs.3000/- for one person by lucky draw for every 30 Chit enrollments.
KSFE PRAVASI CHITTY
Are you an NRI / NRK?
KSFE opens a new provision for the NRIs to join our chitty. KSFE NRI Chitties are specifically designed for the NRI community.
pravasi.ksfe.com
No. of Customer
Registrations

0

+

Pravasi Chits
Registered Till Now

0

+

No of Chittals in Pravasi Chits

0

+
54 Years of Trusted Services
We Thank More Than 50 lakhs of Our Satisfied Customers, For Your Trust And Faith.